Our Agency Owner: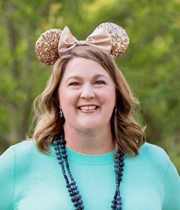 I dreamed of going to Walt Disney World as a child but I never made the trip until I was an adult. I have made up for lost time since being bitten with the Disney bug. Even before we had children, my absolute favorite vacation destination was Disney! I have done every kind of trip from adults only, romantic get aways, girls' weekends, babymoons, and family vacations with small children. Every trip to Disney is magical and something to cherish. Now that we do have children, I am seeing Disney in a whole new way. I will never forget the first time my oldest son met his pal Mickey Mouse. The look on his face was priceless. And that look made me an even bigger Disney fan. Disney magic is something everyone should experience and share.
My favorite places to stay are The Polynesian Village and Disney's Beach Club Villas. Magic Kingdom is my favorite park by day and I love dining in Epcot and exploring it at night. You will always find me riding Haunted Mansion multiple times in a trip and Figment has a special place in my heart. I am so thankful we have children now so when we stand in line for the characters over and over, I can convince my husband we are doing it for them, not me! If choosing a place without a theme park for vacation, I adore Hawaii, The Eastern Caribbean, and Italy!
Prior to entering the world of Disney vacation planning, I graduated from Southern Methodist University in Dallas, Texas. I pursued a career in sales and operations management. More than a decade ago, I started my own business and never looked back. I continued to day dream of planning Disney vacations and was the go to person for years for friends. It was clear when I grew up, I wanted to be a travel advisor that specializes in family travel. I bring decades of professional experience to the planning of your vacation and maybe a touch of OCD for organization and details.
I have almost as much fun planning Disney vacations as I do going to Disney. I love reading about new things happening, people's experiences, trip reports, and daydreaming about our next visit. The itinerary planning is one of my favorite parts leading up to any Disney vacation. I can't wait to use my passion for Disney to help you plan your most magical vacation yet!
Specialties: Walt Disney World® Resort, Disney Cruise Line, Disneyland® Resort; Adventures by Disney®; Aulani, Universal Orlando® Resort, Europe, Hawaii, Beaches/Sandals, Royal Caribbean Cruise Line , Caribbean, Multi-generational travel, Groups
Our Travel Advisors: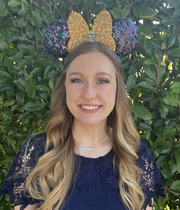 Disney has always held a special place in my heart. Ever since I was young, I have had a love and passion for all things Disney. My first trip to Disney World was when I was 5, and I have had several more magical experiences since then! Meeting the characters, being immersed in the different lands, and riding all of the classic rides are just a few of my favorite parts of visiting both Disney World and Disneyland. There is just something special about visiting the Disney parks, and I can't wait to help other people plan their own trips and experience the magic!
In between visits to Disney, I enjoy visiting other amusement parks and exploring different parts of the world! I love the excitement of visiting a new place, exploring, and making new memories. As a trained engineer, I have a strong attention to detail and organization, which I use to help plan the most unforgettable trips! I love all of the research and coordination that goes into planning a vacation, and do my best to create the best trip possible for everyone. I believe that memories last a lifetime, and I can't wait to help you create new ones on your next magical adventure!
Specialties: Walt Disney World, Disney Cruise Line, Royal Caribbean Cruise Line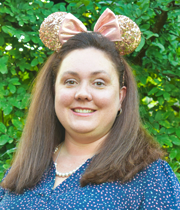 My love of all things Disney started when I was a kid. My first trip to Disney World was when I was 7 years old and I couldn't wait to go back. I did not make it back until after my husband and I returned for our first anniversary. As soon as I had kids, I started to share my love of Disney with them. As a mom to three boys and a girl that are 10 and under, we have visited Disney parks with both older and younger children. To see the joy and excitement in their eyes at all different ages makes it even more magical. When we are not visiting Disney, you can find us at the local baseball field in north Austin.
My favorite resort right now is Port Orleans Riverside because I love how peaceful it is there and my children love the activities. I also love the Beachclub Resort because of the amazing pool and proximity to EPCOT. I have stayed at five different resorts and they each offer a unique, special experience. I look forward to trying other resorts in the future.
My favorite park is EPCOT. I love exploring the countries and find what makes each country special. My family also loves trying new foods at EPCOT. You can find food there that you won't find anywhere else at Disney! My favorite ride is also at EPCOT – Soarin' Around the World. I would love to help you plan your next Disney vacation. Whether your family is big or small I can help you plan it all and help create memories that will last a lifetime.
Specialties: Walt Disney World® Resort, Disney Cruise Line, Royal Caribbean Cruises, Large Families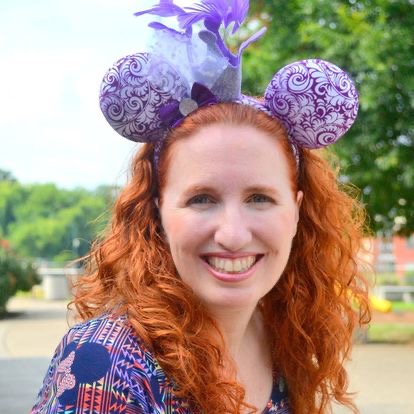 My love of Disney started at age 4 when I met Mickey Mouse for the first time at Walt Disney World. My mom still gets a little teary as she describes Mickey kneeling down to greet me as I ran full speed into his arms. The obsession grew in high school when I spent 4 years planning for my senior year music trip to participate in Magic Music Days at Walt Disney World. After honeymooning at Disney's Caribbean Beach Resort, I successfully converted my husband to a Disney fanatic, too!
Planning unforgettable vacations is my superpower. I fell in love with travel as a teenager. Nearly two decades later I realized that I could combine my passion for travel with my planning skills to help others make lasting memories while visiting exciting destinations. Whether you are dreaming of a memorable family vacation, a romantic getaway, a multi-generational trip, a girls weekend, or anything in between, I can help match you with the destination and on-site experience that best fits your interests and expectations. Simply put, helping you create your dream vacation is my specialty! To me, it's not just about the magic, but about the memories. No guest is too old or too young to make amazing memories at a Disney destination.
Specialties:
Walt Disney World®, Disney Cruise Line, Disneyland® Resort, Disney's Aulani, Special Needs & Allergy Travel

Click here to email Debbie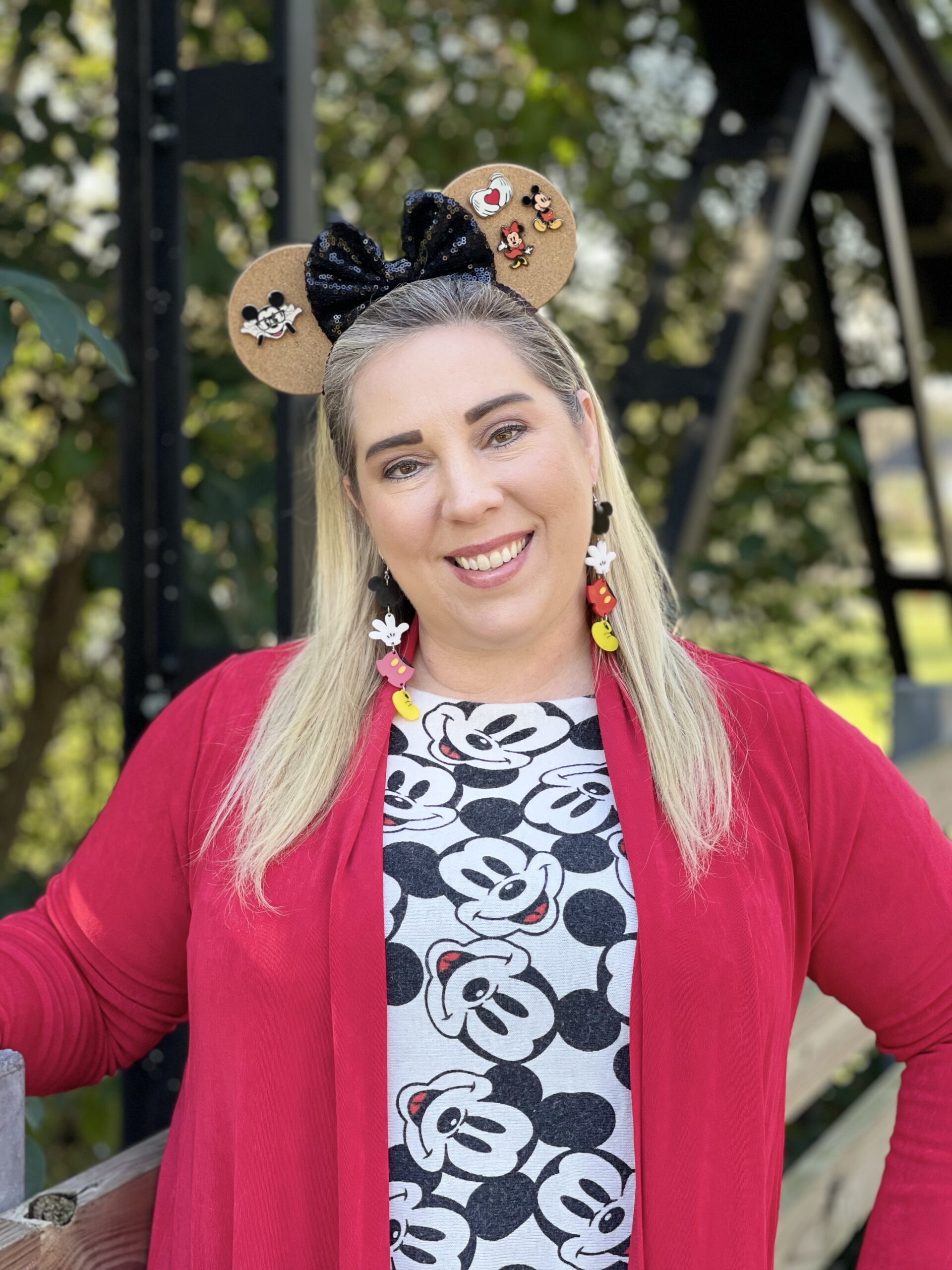 I always wanted to go to Disney as a child, but it wasn't really a trip my parents could manage. So, after years of begging, my Grammy decided to gift me a trip to the happiest place on earth. I will never forget the excitement I felt the first time I walked under the train trestle onto town square, and I was greeted by all of my favorite iconic Disney characters.
I remember running from one character to the next scoring autographs and capturing the moment with photos. At the time, I thought the Fairy Godmother herself made all my dreams come true. My first Disney experience was the perfect trip for my Disney loving soul. But, it wasn't until we headed down Main Street and my eyes fell upon the regal beauty of Cinderella's Castle that I truly felt like I stepped into a story book as the magic of Disney filled my heart! Years later, my Pawpaw decided to take all the grandkids to Walt Disney World my junior year of high school. I'm pretty sure my level of excitement far exceeded that of my younger sister! I vividly remember skipping towards the castle hoping to see Tinkerbell, who is still one of my all-time favorites! Over the years, I have been blessed with many unforgettable trips to Walt Disney World.
I am also lucky enough to be an annual pass holder, allowing my family and I to continue creating new Disney adventures and traditions each year. People always ask if me ever get tired of Disney. Well, the answer is no….I still love the excitement of the lights, the shows, the sounds, the people, fireworks, park themed outfits, and my favorite accessory…mouse ears! Honestly, Disney never gets old! In fact, I think Disney is like a fine wine….It just keeps getting better with age! When I am not traveling to the parks, I am always planning my next Disney vacation, whether there is one on the books or I am day dreaming. I can't wait to help you plan special magical moments for you and your family!
Specialties: Walt Disney World, Multi-Generational, Annual Pass Planning Services, Universal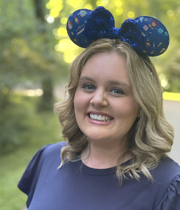 One of my fondest childhood memories is visiting the Walt Disney World resort for my 6th birthday. When my husband and I took our own family, 25 years later, the magic was just as special. Getting to see your children experience all the wonder and excitement that comes with a Disney vacation is incomparable. After our first trip as a family, we were hooked and couldn't wait to go back. Before long we took the plunge and became Annual Passholders, which allows us to visit Walt Disney World several times a year. I am often asked if I ever get sick of going to the same place over and over. The answer is…absolutely not! Each trip is different and special in its own way.
We have made some amazing memories and plan to continue to do so for years to come. I am on a mission to stay at every resort on property and we have a handful left to go! My favorite resort is Animal Kingdom Lodge. There is something extra magical about sipping your coffee. while watching giraffes roam around from your balcony.
I believe Disney can be the perfect vacation for everyone and it is so important to me that the clients I work with can focus on looking forward to their trip without any stress or confusion. In addition to Disney World, Disneyland and Aulani are also places I love to travel to. Aulani is heaven on earth and there is nothing like getting to experience "Walt's Park" and walk in his footsteps. I would love to work with you and help plan the most magical vacation for you and your family!
Specialties:
Walt Disney World, Disneyland Resort, Aulani

Click here to email Jen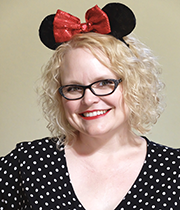 My first trip to Disney World was as a teenager, and I remember my brother and I commenting that we couldn't believe we were having so much fun at a "kid" park! As an adult with my own children, I delayed returning because, to be honest with you, I'd heard stories about the details involved in planning! Sometimes it felt
that people were speaking a different language! With the help of a travel agent, I finally jumped in and discovered that I love planning for Disney–it's like a puzzle to me, and it's fun to see all the plans fall into place.
After our first trip, we were hooked. It took awhile to convince my husband to go on that first trip, but within a month of returning home he'd already asked when we were going back to Disney World! My favorite ride is Haunted Mansion–we love Halloween and are returning for our second Mickey's Not So Scary Halloween Party in the fall!
I love staying at Disney's Contemporary Resort due to its location, although we're excited to try out Disney's Animal Kingdom Lodge on our next trip. I can't wait to help your family experience the magic that we've found in Disney!
Specialties: Walt Disney World®, Disneyland®, Disney Cruise Line®, DVC Member Planning Services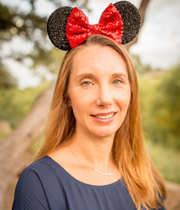 As a kid, my family and I squeezed in trips to Walt Disney World while visiting my grandparents in Florida. We still have fond memories as a family and look back at those experiences we shared together. As an adult, I couldn't wait to share my love of all things Disney with my two young children. On our first vacation to Disneyland, Minnie Mouse took my daughter's hand as they walked down Main Street, USA together. I'll never forget the smile on my daughter's face and knew she was forever in love. My kids are in awe of the Disney characters and met over 30 during our last trip to Walt Disney World.
I developed my love of travel while living in Denmark during a study aboard program in college. After the six month program, I backpacked throughout Europe and was eager to learn the rich history and cultures, and sample the enjoy local food. I look forward to visiting new countries and exploring their beautiful landscapes.
Between vacation planning, I keep up with sports and activities with my kids. I understand how valuable your time can be and I can't wait to plan your next vacation to Disney and beyond.
Specialties: Walt Disney World®, Disneyland® Resort, Caribbean, All-Inclusive Travel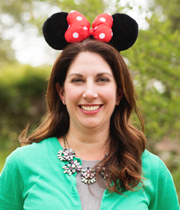 My first trip to Disney World was when I was 5. My little sister cried when we met Goofy but you couldn't get the smile off my face. Now, no matter how often I return to Walt Disney World, I am always able to find something new and I love it even more. Disney destinations have always been some of my favorite places and I hope to help you make them some of yours too!
Currently my favorite Walt Disney World resorts are The Boardwalk Resort and Gran Destino Tower at Disney's Coronado Springs, but we like to try new things in our house and are always trying out new and exciting places to call "home base" while enjoying the parks.
Epcot is our favorite park within WDW and when visiting we never miss a chance to eat our way around the world and the seasonal festivals! When at the Magic Kingdom we head straight for our favorite mountains (Space and Big Thunder Mountain), love a good expedition up Everest at Animal Kingdom and also enjoy visiting a galaxy far, far away in Disney's Hollywood Studios. Being the mother of both a thrill seeker and a less adventurous lover of Disney classics we try, with every trip, to experience everything Disney has to offer—from Animal Kingdom and Aurora to Zurg!
Between our Disney trips, we stay busy with sports and school and time does fly when you are a busy family! I understand how precious your time with family and friends is and I hope I can help you maximize your vacation and minimize your stress in planning it. Just let me know how I can help!
Specialties:Adventures By Disney, Walt Disney World® , Disneyland, Disney Cruise Line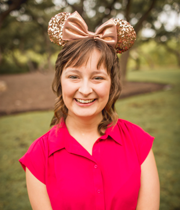 I am an aficionado of all things Disney, with a true passion for the happiness that Disney destinations bring all who step within their bounds! Having been a multitude of times, I understand the ins and outs of the perfect trip to visit the Mouse! I am a dog momma, and my sweet Opal is where I've learned to love fiercely, and find the best in everyone I meet. Exuding love and happiness is my goal in everything I do, which includes helping you book the best Disney vacation possible. I want more than anything for you to find your happiness in the happiest place on earth, just like I do! I'm a true believer that the right planning will make the perfect vacation for you and your family. I will take the time to learn about your family and use that knowledge combined with my expertise to create an unforgettable trip. I can't wait to help you plan the most Magical Vacation!
Specialties: Walt Disney World®, Disney Cruise Line, Disneyland® Resort, Adult only trips, Honeymoons/Destination Weddings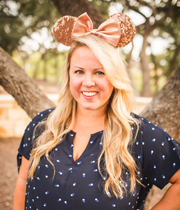 I went to Disneyland for the first time when I was 3 years old, and Walt Disney World when I was 12. The magic you feel the first time you walk into either of those parks stays with you. When I had my son Cash, I knew I wanted to share that magic with him. We took him to Walt Disney World for the first time when he was 2, and it was one of the best vacations of our lives. We have since taken him back every year to Disneyland or Walt Disney World. It is always a wonderful time for our family- we love experiencing the magic together!
I love all the Disney Parks but the Magic Kingdom has my heart. My favorite Disney ride of all time is Splash Mountain! If I could stay at any resort it would be The Grand Floridian or The Contemporary. As a family, we love to travel and if we're not heading to a Disney destination, we are usually heading to the beach!
I'm a native Austinite, and graduated from the University of Texas. Before I had my son, I was the Executive Director of a non profit organization and I managed more than 50 events every year. Now, I'm bringing that highly detailed event planning mentality to planning world class magical vacations for your family.
Specialties: Walt Disney World®, Disney Cruise Line, Disneyland® Resort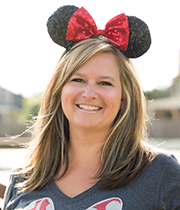 Disney through the eyes of my children is unlike any other experience! I remember vacationing to Disneyworld and Disneyland as a teenager, but it wasn't until I took my own children that the magic truly came alive for me. The sparkle in their eyes, the squeals of laughter, the fear of the unknown, and the amazement of each character coming to life in front of their eyes is unforgettable. We have graciously been able to explore Disneyworld and Disneyland many times with our children, and each visit holds a special place in my heart. I LOVE all things Disney and look forward to helping you plan your magical vacation.
My favorite Disney World resorts are Disney's Yacht Club Resort and Disney's Wilderness Lodge. Their theming and proximity to the parks are perfect for our family. I get joy from experiencing the Epcot festivals year-round and trying new foods and drinks! While I love Walt Disney World, my heart is in Disneyland!  When I walk into the Grand Californian hotel, it feels like home. And when in the parks, you can find me in Cars Land or the new Avengers Campus! 
While we are thrill seekers and enjoy every thrill ride in the Disney parks, I always make time for the classics like Dumbo too!  I also thoroughly enjoy meeting characters on each trip. We love to seek out ones we've never met before. I get joy watching children of all ages get excited to see their favorite characters for the first time!
When we're not creating memories at a Disney destination, you can find us on a cruise or visiting the beautiful beaches of the Caribbean. I am at peace when by the sea. Aside from helping you plan amazing vacations; I am also a teacher. I have served in Texas Public Schools for over 20 years. I take pride in organization and building relationships with others and use those skills to craft magical vacations for you!
Let's make Disney Magic together!
Specialties: Walt Disney World® Resort, Disney Cruise Line, Disneyland® Resort; Adventures by Disney®; Universal Orlando® Resort, Beaches/Sandals, Royal Caribbean Cruise Line , Caribbean All-Inclusive, Princess Cruise Line, Multi-generational travel, Groups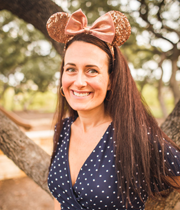 I've been traveling to Walt Disney World yearly since 1976; I guess you could say that I've been raised on Disney! I loved going as a child and then later as a teenager. I also loved going as a young adult-I took my husband on his first trip to Walt Disney World for our honeymoon. These days, we love traveling with our own four children. There's just so much to experience and enjoy for every age that we have continued to go back year after year!
When we travel to Walt Disney World, we usually stay at Coronado Springs Resort. The architecture is so beautiful and the landscape is so lush that we feel transported to the southwest right there in central Florida! My kids' favorite part of the resort is the pool, and I sure enjoy the nearby hot tub. We also really like Disney's Polynesian Village Resort for the South Pacific, the volcano pool, and the easy access to Dole Whips!
As a family, we're big on rides. My favorites are the classics: the Haunted Mansion and the Pirates of the Caribbean. I have to go on them both multiple times each trip to take in all of the details! Another one of my favorites, though, is a more recent addition: the Tower of Terror. It combines detailed storytelling with the thrill of multiple drops!
When we're not visiting the main mouse, we like to take road trips to various places around the country. Some of my more recent favorite destinations include New Orleans and Washington DC. When I was younger, we traveled all over the west one summer, and I look forward to doing the same with my own children someday. My big travel dream, though, is to have my whole family (my parents, my three younger sisters, their kids, my kids: all of us!) travel to Italy together.

Specialties: Walt Disney World®