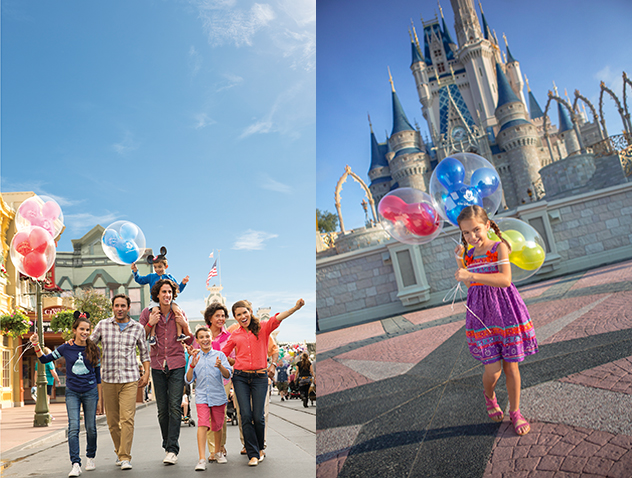 Melissa,
Where do I begin??? Our trip was completely magical!!! We all had an amazing time….. And are still completely exhausted! Let me start by saying I will never take another Disney trip without you!!! We executed your daily itinerary almost perfectly (we only missed 2 fast passes and the second was because of a total downpour on Friday morning!!!). Next time I'll pack ponchos and rain gear…..
I have tried to do Disneyworld 2 other times in the past and they did not hold a candle to this trip!! I can't believe all the amazing things we were able to do in just 4 days…. You set us up to see so many of the Disney characters and The girls had a blast and we all can't wait to go back!! Their autograph books were overflowing!!!! Now I just need help sorting thru 400+ pictures!!!
Melissa You took care of everything…. The most amazing and convenient magic kingdom Hotel, respectful and reliable car service, healthy groceries delivered to the room, comfortable stroller rental, park tickets, all our character dining reservations, and the perfect fast passes…. Still can't believe you got Elsa and Anna (they were a 4 hour stand by wait the entire week!!!). I can't thank you enough for all your help with this trip…. Even with the cancel and re-booking craziness.
Your service was so incredibly helpful. Just wanted to say an extra special thank you!!! I don't Facebook but you are welcome to use this email on your website as a glowing review 😉
Thanks again!
The Allen family
---
"Today was one of the best days ever. I'm glad that we know a Disney travel agent." – Aaron( age 6),
---
Well, we are back to reality now 🙂 The trip went GREAT!! I kept meaning to touch base with you, but I never really had time. But, every single thing went off without a hitch. You planned everything perfectly!! Tina
---
We returned from another great trip to WDW on Monday and I wanted to write to thank you again. Everything went great. We were not just close to Kristin & Joe's room… we were right next to it with a connecting door. Fantastic! They hadn't told Caroline we were going to come down on Thursday night so she wouldn't be asking about us all day Wednesday and Thursday. Friday morning they told her to knock on the connecting door and we answered it. The expression on her face and her chatter were priceless. Thanks for making those great memories. Ron
---
I wanted to thank you for your help planning our kids' first visit to Disney World. You both greatly enhanced our Disney experience. My favorite part (perhaps because it was the first day and we were the most refreshed) was the character lunch at Hollywood & Vine. While the Tusker House had better food, the character interaction at the table and the parade through the restaurant was a lot of fun. We only lost our daughter for a few minutes before she came running back. A close second is obviously the Be Our Guest restaurant. We sat in the main ballroom and enjoyed the Grey Stuff for dessert.
We lucked out and had great weather. We followed your well thought out itinerary every day. Thanks again for everything!!! Mike
---
I just wanted to let you know what a fabulous time we had on our Disney vacation. It was terrific. Thank you for everything and I will certainly keep your contact information for future trips and pass it along to others who may be traveling. I loved the itinerary. It was very helpful. I am a Disney fanatic, but even considering that I've been to Disney probably 30 times in my life, your suggestions were still helpful. I especially loved catching the Holiday Wishes fireworks from the Polynesian beach after our 'Ohana dinner. I never would have thought to do that and we really enjoyed the fireworks presentation. Thanks again! Elyse
---
Our Disney World adventure is now a very fond memory! Thank you so much for all the details and fun experiences we had! You were an invaluable help in making wonderful memories with my daughter and granddaughter! Thanks! DuAnn
---
We've had an amazing day at Hollywood so far. Now we're back at the hotel for a well needed recharge. Here are a few pics of the day. The highlight of their day was meeting Minnie in her sitting room. We loved that we had Minnie all to ourselves.
They liked seeing Sofia as well, but that pic didn't come out good on my camera. Thankfully I have my photopass! Anyway, thank you so much for giving us such amazing tips. We were sitting in the Toy Story ride at 855, and then had a fastpass to ride it again at 1030. They loved it! 🙂
Thanks again 🙂 Sandy
---
I just wanted to take a few minutes to thank you for all of your help with our Disney vacation. From start to finish you were amazing in helping us plan and execute our magical trip. All four of us had a wonderful (yet exhausting) time. The AoA was everything we hoped it would be. It was the perfect choice for our family. We loved spending a week in Radiator Springs. We couldn't have been happier with the choices you helped us make for our TS dining options. TRex and Coral Reef were a lot of fun and gave the boys a lot to look at while waiting for dinner. Both had amazing desserts as well )The chocolate wave and some ice cream sandwich thing at TRex which I don't recall the name were both outstanding! Via Napoli was another great choice. Being from Chicago, I am kind of a pizza snob…but I really enjoyed this different style of pizza. Be Our Guest was a perfect choice for Brandon's birthday. They were very accommodating with his limited tastes and a birthday card and picture with the Beast made for a special memory. We had a blast on the Pirates and Pals fireworks voyage as well. it was definitely a birthday to remember. Having the stroller was a lifesaver. We used it constantly. We also appreciated having the groceries delivered to our resort. It made getting out early in the morning much easier.
I can't express to you how much I appreciate your availability to us. You allowed me to text and you were always there for us to answer every and any question I had which helped us get the most out of this trip as possible. What you need to understand is that my wife and I are both teachers, so we don't travel much. This is why it was so important for us to make the most out of this trip, and because of you.we most certainly did. The best way I can describe this trip is to say it was a marathon sprint….you go as quickly as you can for as long as you can. It was a week filled with laughs, fun, ooohs and ahs wonder and amazement. There were even a few tears of happiness.
I'm sure you get tons of pictures sent to you from your clients, but I am attaching a couple of ours so you can see some of the magical moments you helped create.
On behalf of all of my family,
Thank you, The Cohns
---
Just wanted to drop a quick note to say thanks. We still have a few days left but so far this vacation has been absolutely amazing. We couldn't have asked for a better experience. Heath